Is The COVID-19 Vaccine Associated With Increased Joint Inflammation In Patients With Autoimmune Arthritis? A Survey With 1,188 Participants
Clint Paddison (BSc) (info@rheumatoidsolutions.com) , Vidhi Bharti (PhD)
Disclaimer – The content of this analysis is for informational or educational purposes only, and does not provide medical advice.

Introduction
The effectiveness of vaccines against SARS-CoV-2 has been confirmed in real-world studies and available evidence indicates that eligible COVID-19 vaccines have an acceptable short-term safety profile. The most commonly reported systemic side-effects of the vaccine are fatigue and headaches. However, there is limited data to evaluable the possible correlation between these vaccines and joint inflammation in patients with autoimmune arthritis. In this observational study, we present the survey results of 1,188 autoimmune arthritis patients who received one or more COVID vaccine doses and subsequently answered questions relating to their joint inflammation. Of the raw preliminary responses, 20% of patients reported an inflammatory reaction after receiving the vaccine, with an additional 14% reporting a mild inflammatory reaction. Data analysis revealed that NSAID use was associated with a higher incidence of vaccine-induced-inflammatory reaction with statistical significance. Fibromyalgia patients showed a significantly greater incidence of inflammatory reactions, though sample size was small. The was no significant correlation between the type of vaccine, or the duration of illness, with an inflammatory reaction.

Method
A one-page questionnaire was created and distributed via email to 20,338 active subscribers on the Paddison Program mailing list between 17th and 18th August 2021.

The survey questions were:
What is your diagnosis?
How long have you had this condition?
What medications are you taking?
Which Vaccine did you receive?
Did you experience inflammatory arthritis symptoms after the vaccine? (e.g. swelling/pain/morning stiffness?)
If you experienced joint inflammation, how long did these symptoms persist?
Any other notable side effects or concerns after the vaccine?
Responses from 1,188 patients were received within the allotted 3 day time period.

The results are presented in two parts. The 'descriptive' portion which provides simple summaries about the sample and the measures, followed by the data analysis results. In the data analysis, the survey contains the responses as categorical variables. To analyze the relationship between two categorical variables, the chi-square test of association has been used. The test has been performed based on a null hypothesis stating that the two categorical variables are not associated, and an alternative hypothesis stating the two categorical variables are associated. The rejection of the null hypothesis or the failure to reject the null hypothesis has been concluded based on the test statistic, significance level, and p-value.


Results


What Medications Are You Taking?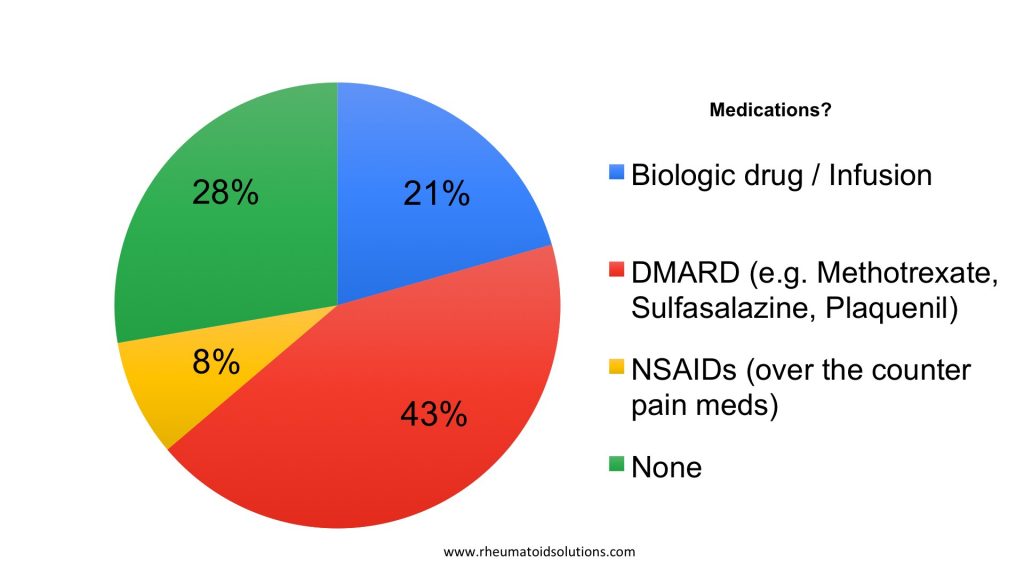 What is your diagnosis?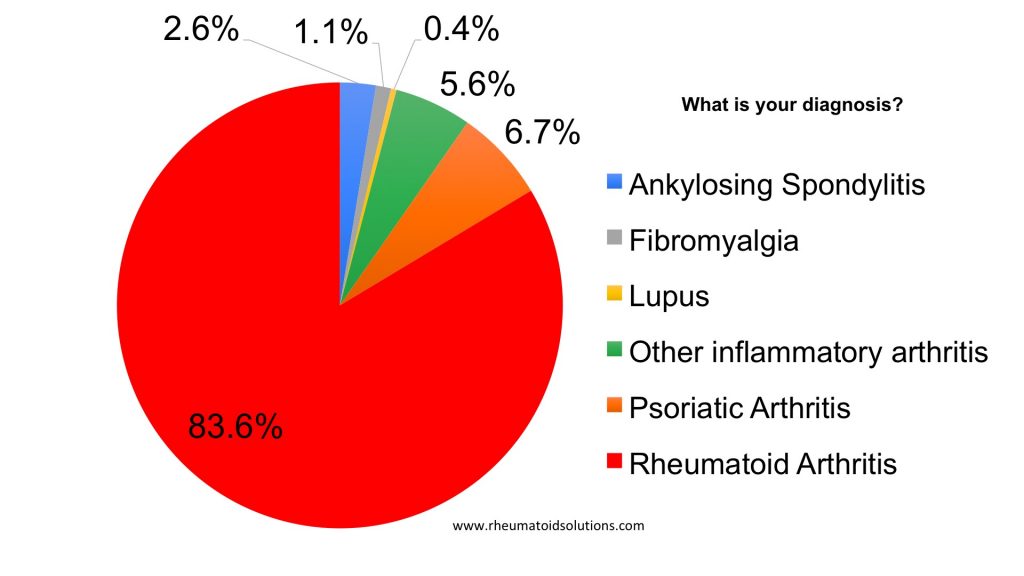 How long have you had this condition?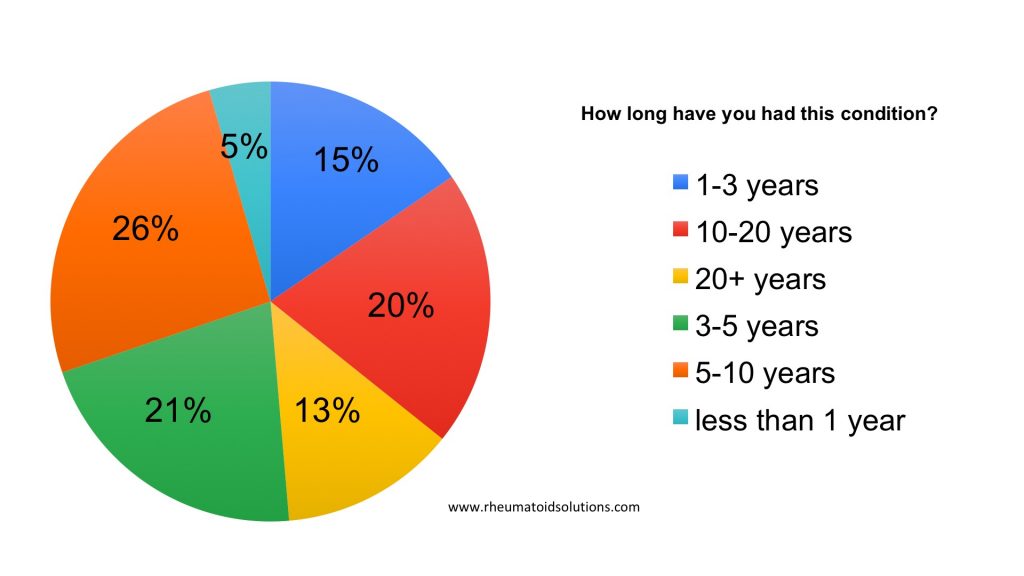 Which Vaccine did you receive?
Did you experience inflammatory arthritis symptoms after the vaccine?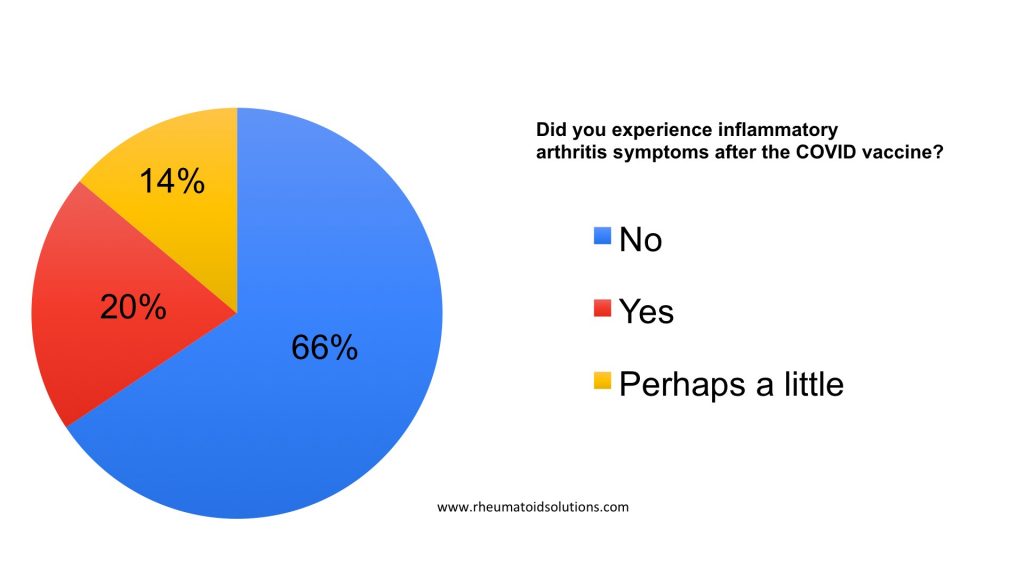 If you experienced joint inflammation, how long did these symptoms persist?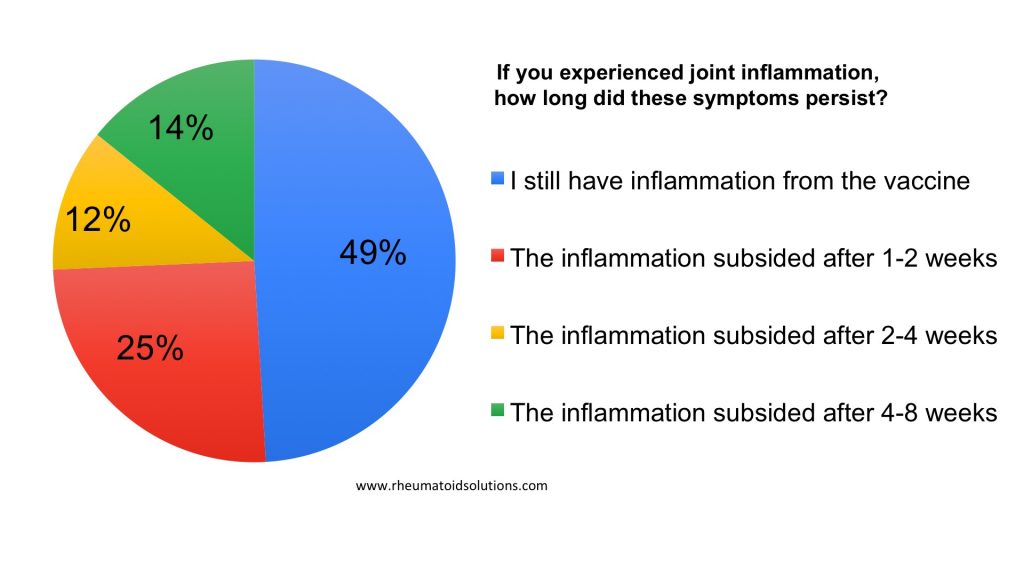 Any other notable side effects or concerns after the vaccine?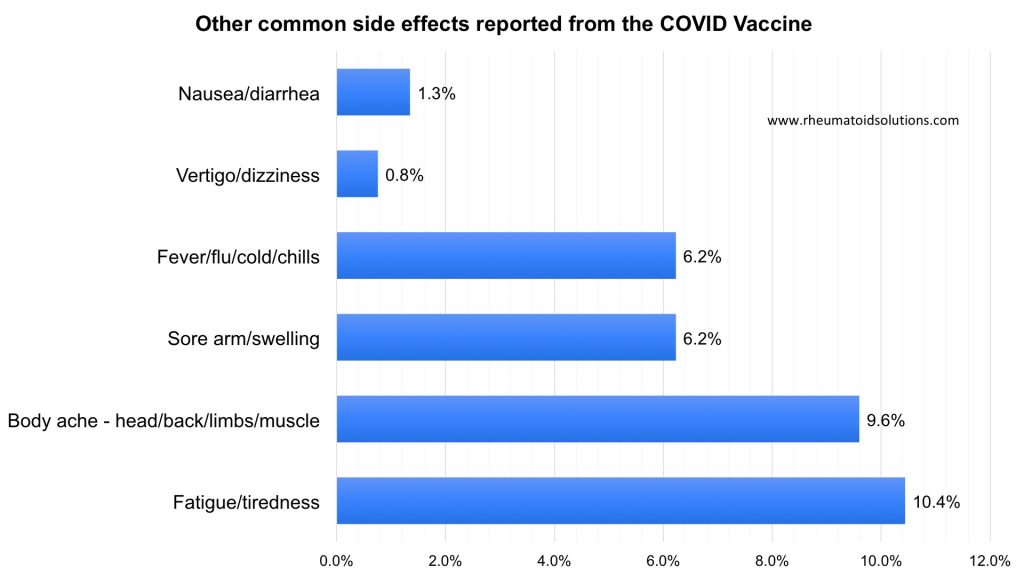 Diagnosis duration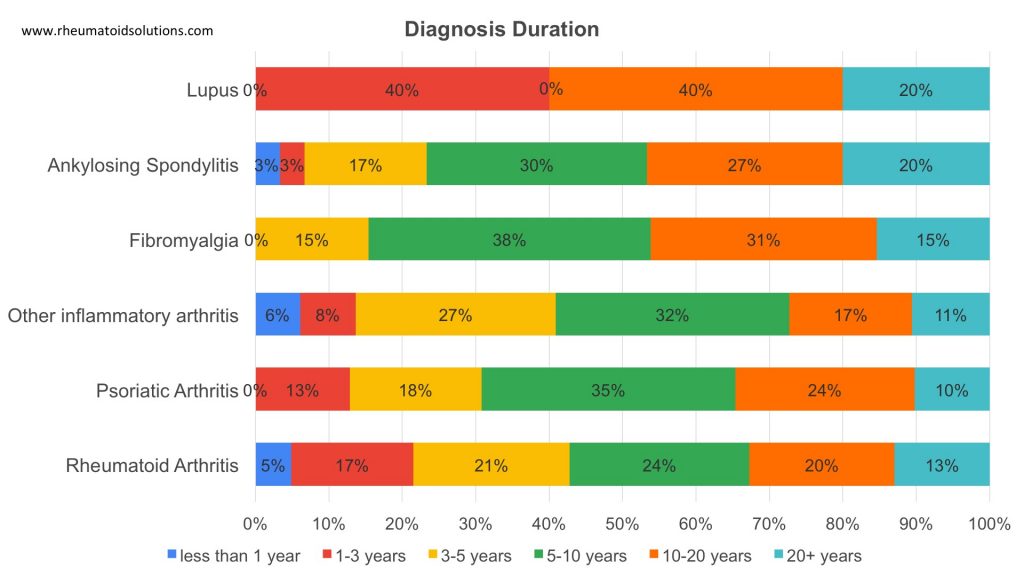 Analytical tests were conducted on the data. Results below reveal the vaccine type vs the diagnosis, and the association between the inflammatory response with type of vaccine, diagnosis and medication.


Diagnosis Diagnosis vs Vaccination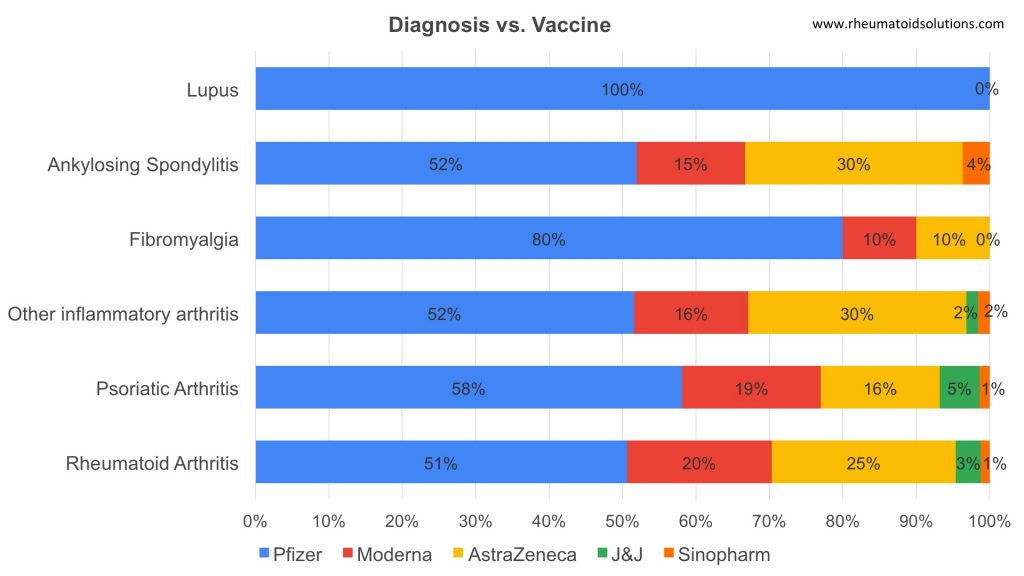 Vaccine vs Inflammation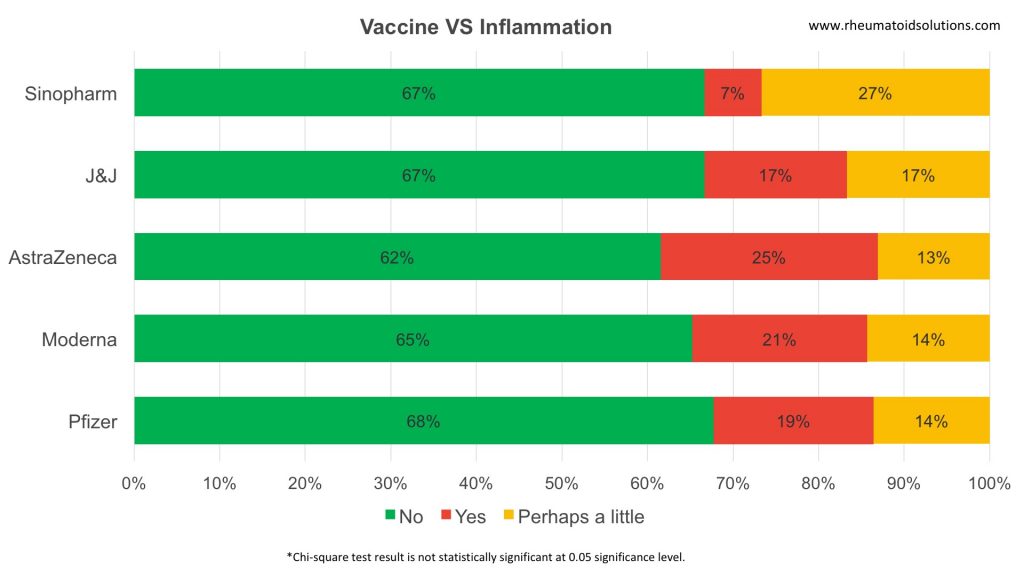 Diagnosis vs Inflammation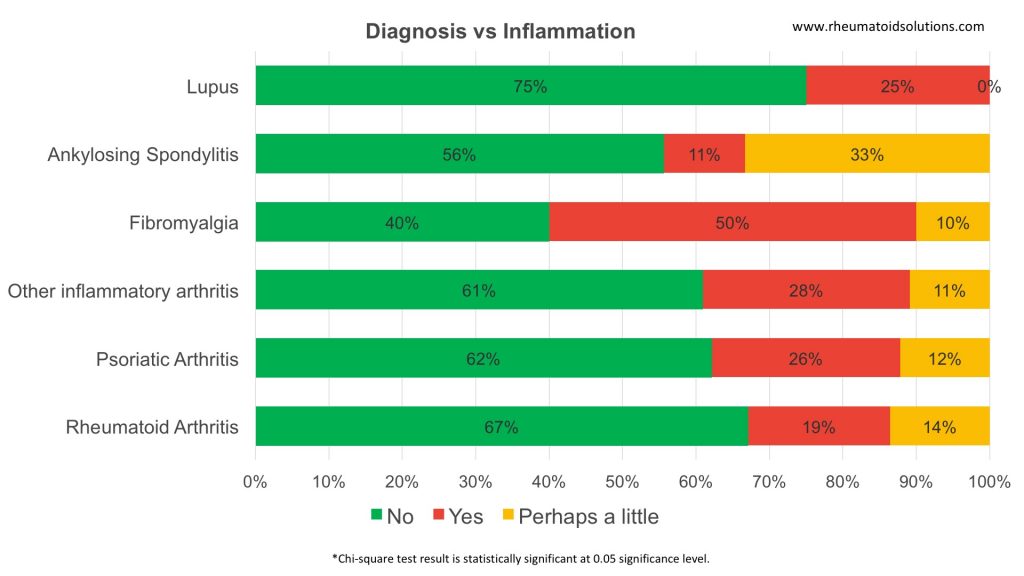 Medication Type vs inflammation
Discussion
The number of participants reporting an inflammatory arthritis reaction in this survey was 20%, plus an additional 14% suspecting a possible mild reaction.
By comparison, in the patient-reported GRA Vax survey* 13.4% of inflammatory arthritis patients reported a flare and 4.6% required new or additional medications.
In the EULAR COVID-19 Vaccination (COVAX) Registry survey of 1,375 entries 5% of patients were documented by practitioners as having a vaccine-induced flare.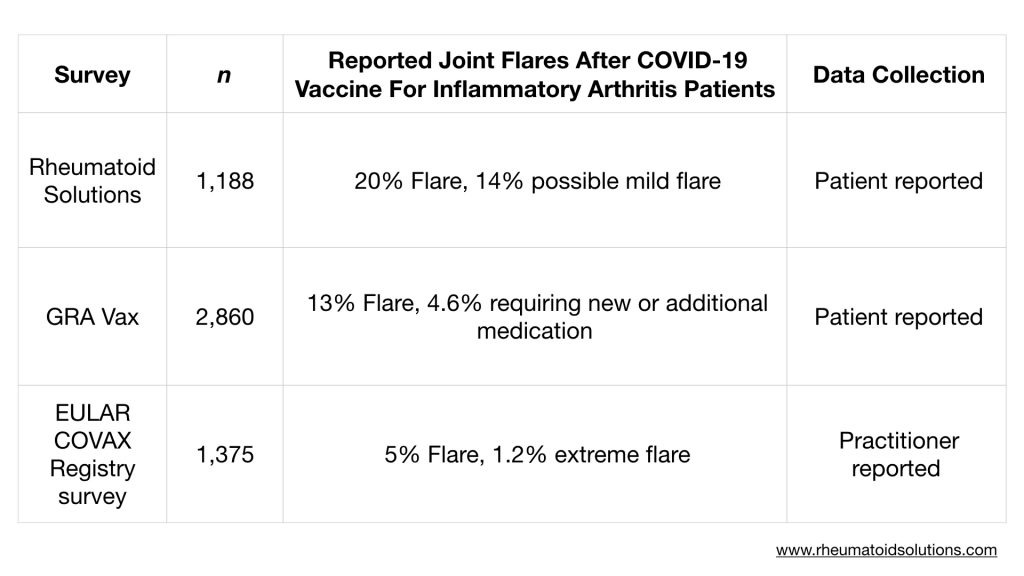 Table 1 reveals that in each survey, a portion of patients with inflammatory arthritis conditions have reported an increase in inflammation. The occurrence of flares reported by patients in the Rheumatoid Solutions and GRA Vax surveys are higher than in the practitioner reported data.
We have identified some limitations of our observational study. Prednisone should have been included as a drug option since they are a substantial part of the therapeutic arsenal for RA and their accidental omission was an unfortunate oversight. The study would have also benefited from a plant-based diet question, since the Rheumatoid Solutions and Paddison Program audience are often plant-based and patients following a plant-based diet had 73% lower odds of having moderate to severe COVID compared to people who did not follow these diets. It would have been beneficial to see if a plant-based diet reduced the likelihood of an inflammatory response from the COVID vaccine.
There is ambiguity in the answers to the question "If you experienced joint inflammation, how long did these symptoms persist?". While 51% of survey responders said that their inflammation subsided in 1-8 weeks, the most selected answer of "I still have joint inflammation" does not provide quantitative data as to how long the inflammation has persisted. This question could have been created in such a way to extract more meaningful data.
The answer 'none' to the question "Which medications are you taking" is also ambiguous. It may be interpreted by the participant as meaning no medications at all, which was the desired intention, or it may be interpreted as meaning none of the medications listed in the selection.
Conclusion
The statistical analysis suggests a possible association between the medication type and post-vaccine arthritis inflammation. The analysis also suggests a possible relation between the type of diagnosis and post-vaccine arthritis inflammation. This observational study has some limitations. There was not an adequate sample for fibromyalgia and Lupus. No personal attributes such as age, gender or dietary preference were collected. Due to the limited data on this topic, and the widespread interest from autoimmune arthritis patients, a repeat study of this kind would be beneficial, capturing some further data that was no included herein. Of value would be age, gender, diet, how long ago they took vaccine, dose number, and before-vaccine inflammation levels. This would provide a greater understanding of the vaccine-inflammation connection for inflammatory arthritis patients.
* Currently unpublished data, but it is reported at the 29.12 min mark in this presentation organised by the American College of Rheumatology.
Acknowledgments
Thank you to everyone who completed this survey.